After a nearly six-month deployment at the United Waalhaven Terminal in the Port of Rotterdam, the hydrogen-electric YT203-H2 powered by one of our hydrogen fuel cell modules has left the Netherlands and is now being tested in the Antwerp Euroterminal.
The test period was kicked off by unveiling a new mobile hydrogen refuelling station in the port area as part of the Hydrolog project. In this project, 18 Belgian companies cooperate to promote hydrogen as a transport fuel. Minister Hilde Crevits, who performed the official opening ceremony: "This project shows that switching to hydrogen as an energy carrier is also becoming a reality in the logistics sector."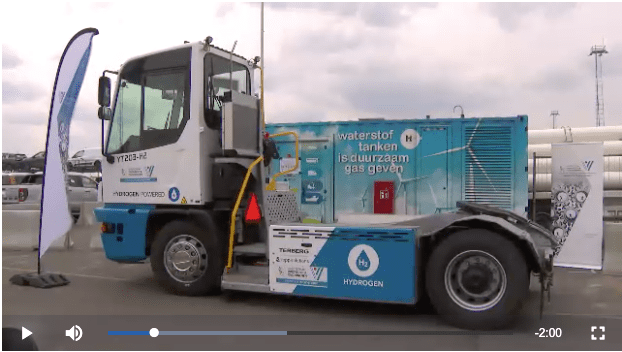 Yves de Larivière, Managing Director Antwerp Euroterminal: "We have been using the vehicle for a week and a half. Both the vehicles we have tested, a forklift truck and this tractor, really meet our needs, and we can use them fully operationally. Remy de Bruijn, Terberg Business development manager added: "We asked the drivers to get the most from the vehicle, to get sufficient data."
The terminal tractor, the result of a joint effort between Terberg Benschop and zepp.solutions, is tested in the Antwerpen Euroterminal to collect data that will be used to further refine the design. The preproduction series will be launched in 2022. Commercial introduction of the hydrogen powered tractor is planned for 2023.